MVISION. An industry first. Cloud-native and insight-driven. Open architecture.
Visibility

Gain visibility into all cloud use and data.

Control

Take control over data and cloud activity from any source.

Protection

Protect against cloud threats and misconfiguration.
Key Use Cases
Enforce data loss prevention (DLP) policies on data in the cloud, in sync with your endpoint DLP.
Prevent unauthorized sharing of sensitive data to the wrong people.
Block sync/download of corporate data to personal devices.
Detect compromised accounts, insider threats, and malware.
Gain visibility into unsanctioned applications and control their functionality.
Audit for misconfiguration against industry benchmarks and automatically change settings.
Container optimized strategies for securing dynamic and ever-changing container workloads and the infrastructure on which they depend.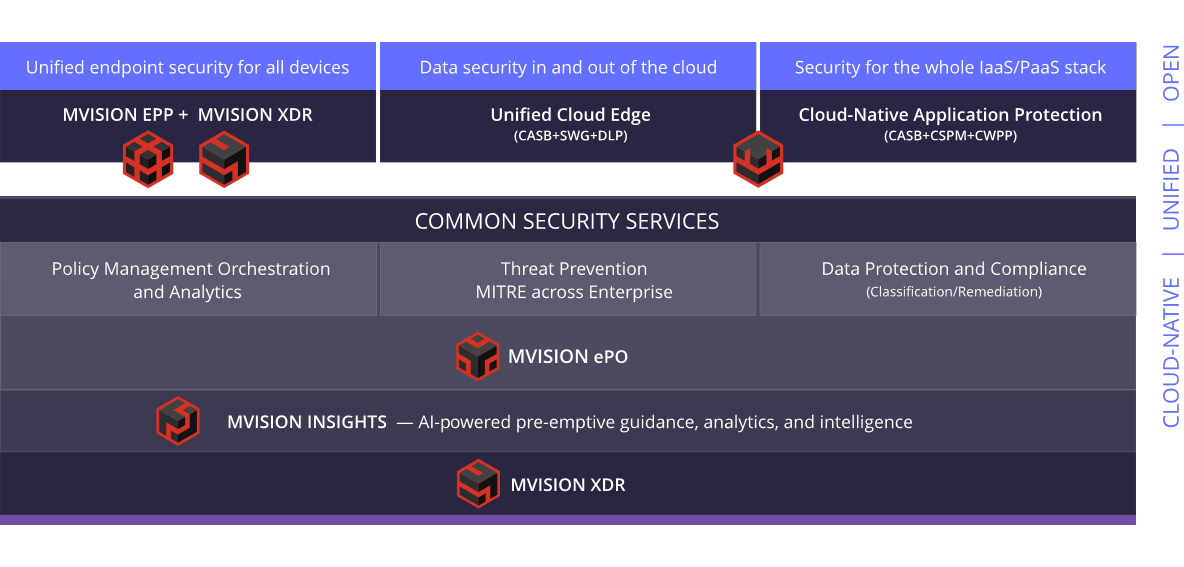 View the McAfee Enterprise Suites Matrix for more details
Unified Policy Engine

Applies unified policies to all cloud services across data at rest and in transit. Leverages policy templates, imports policies from existing solutions, or creates new ones.

Pre-Built Policy Templates

Delivers out-of-the-box policy templates based on business requirement, compliance regulation, industry, cloud service, and third-party benchmarks.

Policy Creation Wizard

Defines customized policies using rules connected by Boolean logic, exceptions, and multi-tier remediation based on incident severity.

Policy Incident Management

A unified interface to review incidents, take manual action, and rollback automatic remediation actions to restore files and permissions.

Cloud Registry

Provides the world's largest and most accurate registry of cloud services with a 1-10 CloudTrust Rating based on a 261-point risk assessment.
Privacy Guard

Leverages an irreversible one-way process to tokenize user identifying information on premises and obfuscate enterprise identity.

Autonomous Remediation

Coaches users to correct policy incidents, and once corrected, automatically resolves incident alerts to reduce manual review of incidents.

In-App Coaching

Coaches users in real-time within the native email, messaging, and collaboration application where the incident occurred.

AI-Driven Activity Mapper

Leverages artificial intelligence to understand apps and map user actions to a uniform set of activities, enabling standardized monitoring and controls across apps.

Multi-Cloud Protection

Enforce a uniform set of security policies across all cloud services, with the ability to associate policy violations and investigate activities, anomalies, and threats at individual services.
Start your free trial of McAfee Enterprise MVISION portfolio for 60 days.
If you would like to purchase MVISION products after the trial period and retain your trial tenant as production tenant (so that you don't lose your configuration, policies, tags, etc.), please use the same End Customer Name, Address, Contact Email as the one used to request the trial.
McAfee Enterprise named Leader in 2020 Gartner Magic Quadrant for Cloud Access Security Brokers (CASBs) for 4th year in a row.
McAfee Enterprise MVISION
McAfee Enterprise MVISION Protect Standard
McAfee Enterprise MVISION Protect Plus
McAfee Enterprise MVISION Mobile Advanced
McAfee Enterprise MVISION Endpoint Detection and Response
McAfee Enterprise MVISION Endpoint Detection and Response Premium
More Resources